Introducing RentaScoota
Why do we do it?
RentaScoota was formed for one purpose; so that our customers could hire and/or buy the correct product in the safe knowledge that it will meet their requirements. Unfortunately many people are being sold scooters that are completely unsuitable for their needs. This is because the vast majority of our competitors are simply looking to make a sale.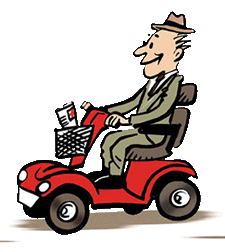 This is not just unethical, it's dangerous for the user and others around them. We provide a tailored service and give all of our customers an over the phone health assessment upon enquiry and find out your "wish list", taking into consideration the local environment (i.e. terrain, distance of local shops, parks etc), range and speed, but even more importantly we ensure that suspension, leg room, back support, and manoeuvrability are correctly assessed. The storage and maintenance of the mobility scooter are also taken into account.
It's this work ethic that's enabled us to win 'A J Way's Dealer Of The Year 2014 Award' and work closely with some big names such as; The BBC, NHS, British Airways, Virgin Airlines, Cunard, Carnival UK, P&O, Celebrity Cruises, Princess Cruises, occupational health therapists, physiotherapists and many more. Robbie Williams and Dizzee Rascal even used our scooters in their recent video Goin' Crazy.
UK's Largest Mobility Network
The RentaScoota National Network was formed to provide national mobility coverage using reputable and established local agents who have a thorough knowledge of mobility scooters. All our trusted and approved members work to a strict code of practice which ensures that all customers can have confidence in any mobility scooter, power chair or manual wheelchair they hire or buy.
We can supply mobility equipment directly to anywhere in Hampshire; Alton, Andover, Basingstoke, Eastleigh, Fareham, Farnbrough, Gosport, Havant, Petersfield, Portsmouth and Waterlooville. If you're outside this area, we may have one of our many trusted agent in your area. Click here to see a list of our Trusted Agents throughout the UK.
All our agents offer professional mobility Repairs and Servicing facilities ensuring that you the customer will benefit from fast and efficient back up, from someone local. So wherever you are in the UK there's always someone looking out for you.
Our Service
If you buy your equipment from the Internet, you'll receive a box of parts. With RentaScoota, we can come to your home, assemble and thoroughly check your scooter or power chair and show you how to use all of it's features thoroughly. We even conduct free home demonstrations with multiple products with absolutely no obligation. Once we've left we provide after sales support should you have any further questions. When ordering online or via telephone, we offer two delivery options. To see our different Delivery Options click here.
Try before you buy!
At RentaScoota you can take away the guesswork by using our Short Term Hire service for a week or two enabling you to test it thoroughly in your own home and surrounding area. This invaluable service can also cost you nothing as when you buy, the cost of the hire is deducted as a genuine discount from the purchase price.
We also offer Long Term Hire best suited to those who have suffered injuries that may affect their mobility such as leg and back problems, those who aren't sure how long they will require a scooter thus ruling out buying one, or people who simply want to thoroughly test drive a particular model before making the decision to buy.
If you, a friend or family member is new to using a mobility scooter the range you'll be faced with can be daunting. Many people have benefited from RentaScoota's "Hire Before You Buy" scheme, be sure to prevent yourself, a member of your family or friend from making an expensive mistake by taking advantage of this service.
Wether you're buying or renting we'll happily come to your home address with multiple products for a home demonstration, enabling you to see how well various products function in and around your home and/or local area to help you decide which mobility scooter is right for you.
Introducing... Mobility at Sea!
We are proud to be the preferred suppliers of mobility scooters, power chairs and manual wheelchairs to all of the major cruise providers including; Cunard, Royal Caribbean, P&O, Celebrity Cruises and Princess Cruises to name a few.
Make your cruising experience much easier and more comfortable by taking advantage of our services. You can now hire hoists, bath lifts and much more, all of which can be professionally installed in your cabin for your arrival. Click here to visit our Cruising Page for more details.